SAFET'HY® PROCESS, WHAT IS IT?
SAFET'HY® PROCESS, ALLIANCE OF THREE EXPERTS
THE SAFET'HY PROCESS: A BOON FOR THE ORGANIC INDUSTRY!
BOOST YOUR ENERGY SAVINGS WITH THE SAFET'HY PROCESS
Boost your energy savings with the SAFET'HY® process
Since 2021, your company has been having to come to terms with the electricity prices affecting the whole of Europe. Today, you're protected by the price cap in France, but this is ending at the end of 2024 (AFP, 2023). This can have a big impact on your business, especially if you use cold room storage.
Replacing the cold room, vacuum storage pays for itself after 3.5 months
So Tamia Pack has been looking into the question of the cost effectiveness of its services compared with refrigerated storage. And in this context of increasing energy costs, the figures speak for themselves.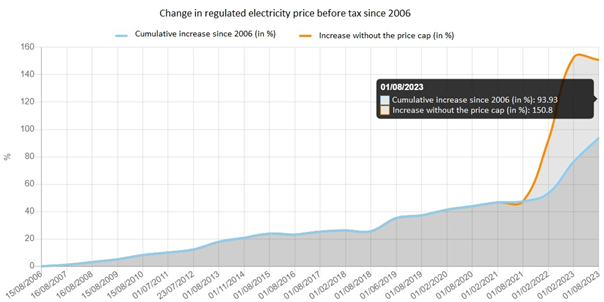 Change in regulated energy price before tax since 2006 in France (SELECTRA, 2023)
Tamia Pack machines are energy efficient. Thus, the vacuum packing service on the customer's site only consumes 1 kWh for 10 tons of packaged wheat.
Our calculations are based on the storage of 100 tons of wheat vacuun packaged on the spot in a standard warehouse. This storage solution is compared with big bags of 600 kg stored in a cold room on an external site. The monthly storage costs of each option are based on the following table:
Comparative storage costs according to technology
Vacuum storage
Cold room
Volumes
100 tons
1 big bag vacuum packed/pallet (1,200kg)
Pallet 100x120cm
100 tons
2 big bag/pallet (2x600kg)
Pallet 100*120cm
Cost
1.5€/pallet/month (building depreciation)
24€/pallet/month (hire)
Transport cost
0€
5 trips at 200€
The graph of cumulative storage cost over time is then obtained as follows:
Comparative cost (€/100kg) of storing 100 T of seeds in big bag over 2 years
*1 quintal = 1.96 cwt
This shows that vacuum storage becomes more cost-efficient than a cold room after only 3.5 months.
These results demonstrate that storage cost savings can be made in an energy saving approach, while at the same time having a flexible and sustainable solution.
Do the calculation yourself, you'll be surprised!