SAFET'HY® PROCESS, WHAT IS IT?
SAFET'HY® PROCESS, ALLIANCE OF THREE EXPERTS
THE SAFET'HY PROCESS: A BOON FOR THE ORGANIC FOOD INDUSTRY!
BOOST YOUR ENERGY SAVINGS WITH THE SAFET'HY PROCESS
THE SAFET'HY® PROCESS: A BOON FOR THE ORGANIC FOOD INDUSTRY!
In constant growth since its creation, the organic food industry is currently going through the first crisis in its history. Products without synthetic inputs are on average 30% more expensive than conventional products. They are harder to sell to consumers in a strongly inflationary context. Turnover in the industry dropped by 4.6% in France in 2022.
A relevant storage solution
​Today supply is greater than demand, an incentive for storage organisations to keep more grains. In France, cereal stocks have increased by 60% compared with the last campaign.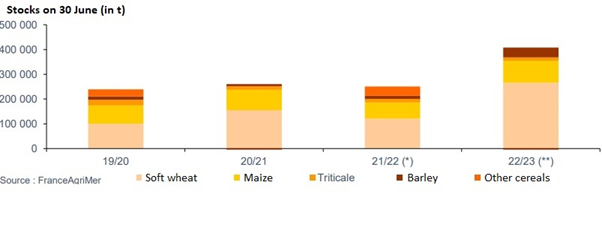 Change in organic cereal stocks in France since 2019 (FRANCEAGRIMER, 2023)
The question of crop preservation then arises: should they be downgraded at the risk of exposure to a large financial loss, or should storage be attempted, but at what risks? A third of foodstuffs are lost annually, in particular after harvesting (FAO). Responsible for this are insect or rodent damage, a quality degraded by mould or oxidation, or defective structures.
 In this context, with its technology for vacuum packaging foods in big bags of 1.2 T or bags of 25 kg (wheat equiv.), TAMIA PACK offers the organic food industry:
A means of preserving harvest surpluses without insecticide, in the short or medium term
A drastic limiting of losses
A maintained intrinsic quality of the goods
The assurance of satisfying customers by supplies without disruption
Making savings by adapting the new production plans to stocks that will have been made secure
Participating in the preservation of resources through the energy saving process and recycling of the aluminium bag packaging.
With all these benefits, TAMIA PACK provides a relevant solution to the organic food industry to fight losses and food wastage, and thus to contribute to a transition to a more coherent and sustainable agro-food systems.